Lightning In a Bottle 2024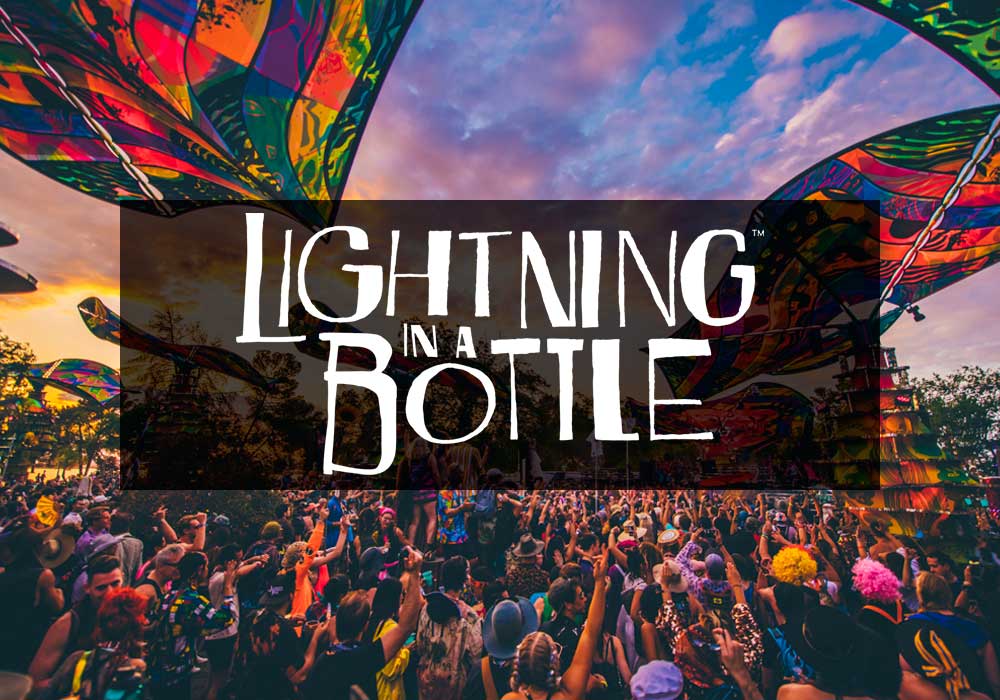 Lightning in a Bottle 2024 will take place in central California at Buena Vista Lake, May 22-27, 2024! Lightning in a Bottle is a unique experience beyond any ordinary music festival. It is a magical land of adventure, where every corner is primed for connection, for wonder, and for fun to happen. It's a wild party with friends old and new, where the connections made last a lifetime.
Lineup 2024
Lineup coming soon!
Lightning In a Bottle 2024 Tickets
GA Festival Pass – Starting at $425 +Fees
5 Days of Music, Art, Camping, Yoga, Workshops and more! Dance, connect, and enjoy this unique lakeside experience. All tickets include tent camping.
VIP Festival Pass – Starting at $760 +Fees
VIP at LIB is an all new experience. Enjoy the new backstage VIP lounges at Lightning, Thunder and Woogie stages with full bars, comfortable resting places and premium restrooms. Plus plenty of other amenities to make your LIB experience the best possible.
Camping at Lightning In a Bottle 2024
The festival offers 3 types of camping on site:
General Camping (Your festival pass includes access to general campgrounds and its amenities. Whether you are tent camping or car camping, LIB campgrounds are a place to create the community we want to live in)
Boutique Camping (a premium onsite camping experience designed to elevate your accommodations and provide a unique environment to immerse yourself into the festival. Offering multiple tiers of fully furnished tent, airstream, and RV rentals, Atlaswyld provides a convenient and luxurious way to experience camping at the event)
RV Camping (There will be separate designated campgrounds for RV's with power, RV's without power, 40'x40' RV campsites, waterfront 40'x40′ campsites, and 80'x80′ campsites. Placement will be based on pass purchased and at the discretion of the RV placement team. Car camping is generally not allowed in the RV campgrounds, unless otherwise noted in the pass type)
Campground amenities include showers, ATMs, food and drink vendors, ice, free water, charging stations and lockers.
How to Get Here
Driving Directions to LIB:
Via Interstate 5, North or South

Exit Bear Mountain Rd / HWY 223

Go West on Bear Mountain Rd / HWY 223 for 4 miles

Turn right onto Coles Levee Rd and continue for 3 miles
FAQ
Will alcohol be sold?
Yes. Beer, wine and mixed drinks will be sold to those with a valid ID.
Is the venue ADA accessible?
The venue is accessible and there will be special viewing areas at the main stages for those with mobility limitations.
Can I bring a pet?
No. LIB has a strict no pet rule that will be enforced.
Are there Security, Medical, and Ranger teams at LIB?
Yes! These teams will be on duty 24 hours a day throughout the festival. If you need assistance you can contact any LIB staff member, go to the medical stations, or info booths.