Governor's Ball Music Festival 2022
One of the best-known music events in New York City, Governor's Ball Music Festival — a three-day event filled with the best food and music this city has to offer.
Governors Ball will return to Citi Field in 2022, with the music event taking place from June 10 to 12. Headliners for Gov Ball include Halsey, Kid Cudi, and J. Cole — all artists with a unique connection to New York. Past headliners at this music festival included Post Malone, Billie Eilish, and Travis Scott.
How Much Do The Governor's Ball Tickets Cost?
The festival offers 3 types of tickets: General Admission, VIP admission and Platinum tickets.
General Admission:
3-Day General Admission: $279 + fees
1-Day General Admission: $129 + fees
VIP tickets:
3-Day VIP: $609 + fees
1-Day VIP: $269 + fees
3-Day Platinum: $2399 + fees
What Is The Governor's Ball Lineup for 2022?
The headlining acts this year include Halsey, Kid Cudi, and J. Cole. You can also catch mega acts like Playboi Carti, Kaytranada, Clairo, Flume, and the Migos.
In addition to the music festival at Citi Field, Governors Ball celebrates New York's local music venues with special "After Dark" performances. These events highlight specific artists and take place on the day before and after Gov Ball, as well as the Friday and Saturday nights.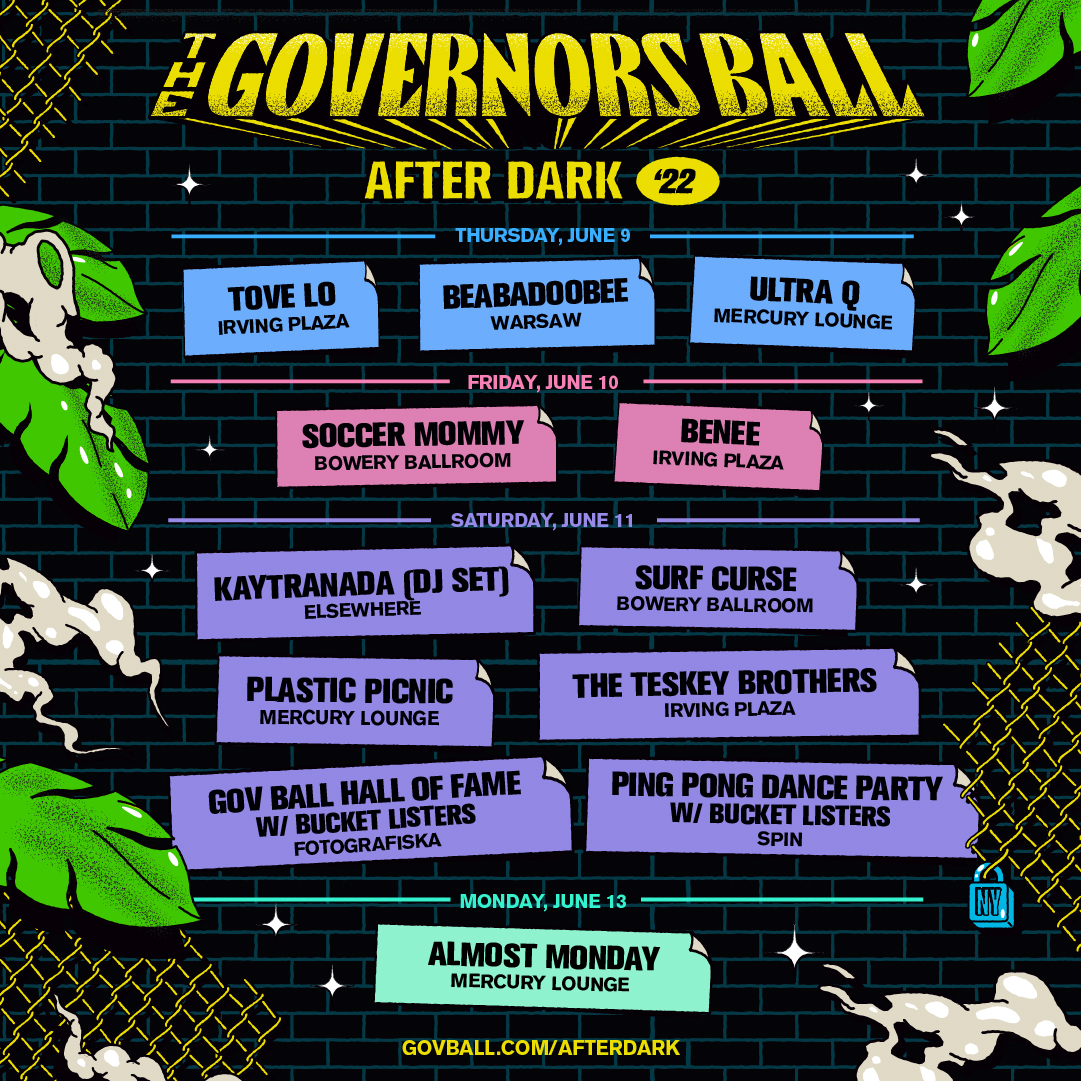 Location
Governors Ball 2022 will take place at Citi Field – one of the easiest places to access via public transportation.
The Subway, Long Island Rail Road (LIRR), and MTA Bus all service the venue, with drop offs being steps from the festival entrance.
Governor's Ball Film
Frequently Answered Question
As of 2022, The Governors Ball Music Festival will be an 18+ event.
Can you buy one-day tickets to Governor's Ball NYC?
Sure. Jump to the beginning of the page and check the available offers for the Governor's Ball tickets, provided by StubHub, TickPick or VividSeats.
How do I get to Governor's Ball?
You will be in New York, so won't find any problem with public transport. Via subway, you take the 4, 5, or 6 train to 125th street. Once there, you can hop on the X80 express bus at 125th street and Lexington Avenue, and the X80 will take you directly to the festival entrance.
What to wear for the Governor's Ball Festival?
The first thing to have are comfortable sneakers: you are going to walk and dance all day. Take light outfit for the late spring festival heat, and don't forget about something warm for the night.
How many people are in Governors Ball?
In 2016, the attendance of the festival was approximately 150,000. Expect more this year!
How much does it cost to go to the Governor's Ball?
The ticket for the festival starts at $242. The hotel in New York will cost at least $75 per night (prices may grow right before the festival, so book it in advance)
Do Governors Ball tickets sell out?
In fact, they do. The Governor's Ball tickets usually sell out on late March and mid-April. However, you can always buy the reserved tickets at our official resellers StubHub, Ticketmaster, and VividSeats.