Inkcarceration Festival 2022
What is the Inkcarceration Festival?
Inkcarceration Festival is a rock music and tattoo festival in Mansfield, Ohio. Its recent lineups have included 30 hard rock acts spread over two stages and 70 tattoo artists, Inkcarceration is a celebration of both cultures.
Taking place on the grounds of the infamous Ohio State Reformatory historic prison, the festival is set amongst not only criminal history but cinematic history as well.
How Much Do The Inkcarceration Festival Tickets Cost?
The prices for the Inkcarceration festival 2022 start at $95 for the single-day pass, according to the official website (prices are subject to changes).
Inkcarceration 2022 Dates
This year's Inkcarceration festival starts on July 15, and will last for 3 days, until July 17.
Inkcarceration Lineup 2022
Korn, Disturbed, Breaking Benjamin, and Evanescence will headline this year's iteration of Inkcarceration.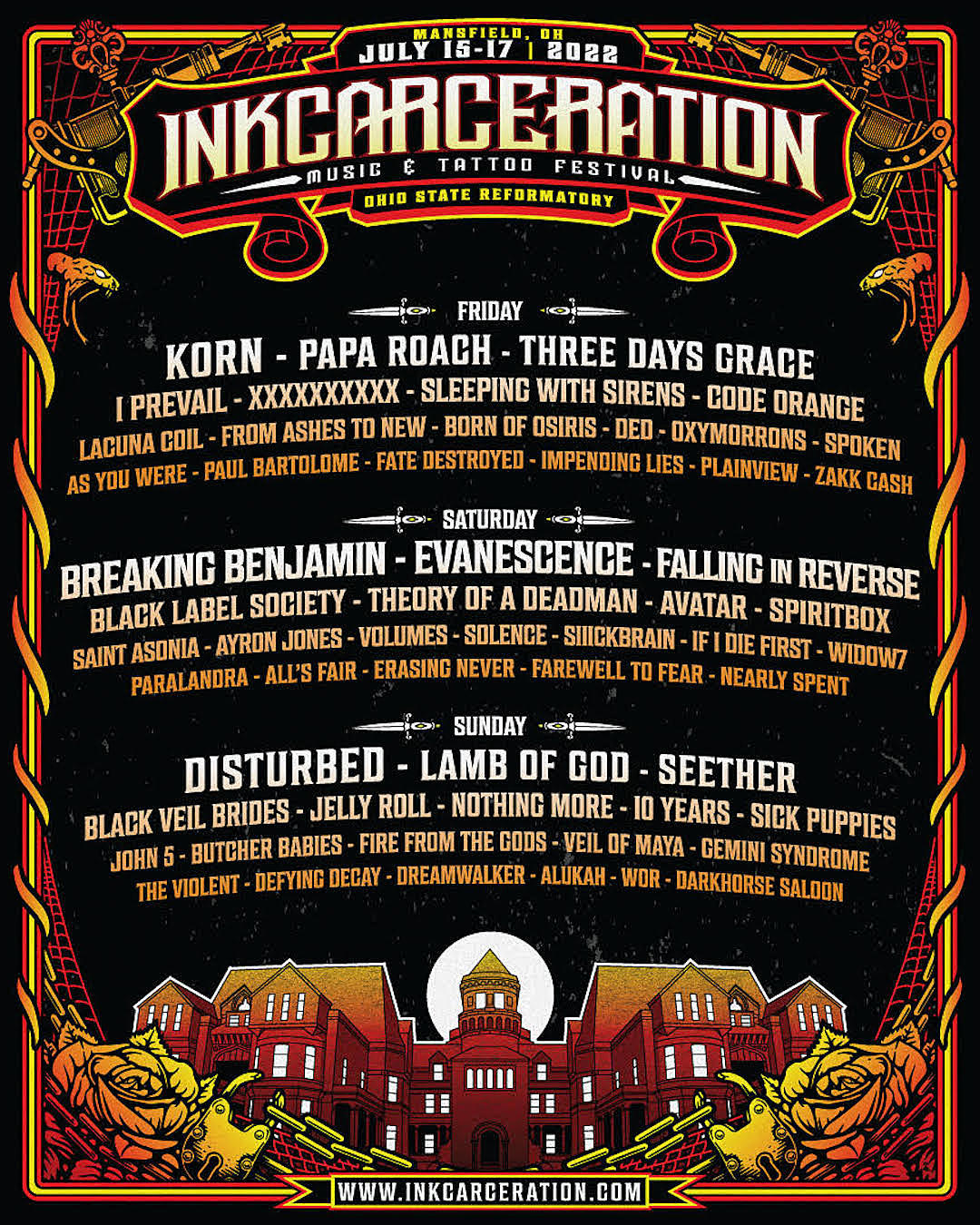 Where to Stay During Inkcarceration Festival 2022
We've partnered with the best hotels around Mansfield to bring you the lowest rates possible along with a great lodging experience for your Inkcarceration weekend.
Where Is Inkcarceration 2022 Held?
This year's Inkcarceration festival location is Ohio State Reformatory, which is in Mansfield, OH. The venue can be found at the address 100 Reformatory Rd, Mansfield, OH 44905, United States.
Frequently Answered Question
Where to Park at Inkcarceration Festival?
There are two parking lots located directly off US 30 near the festival grounds-including a brand new Orange lot for 2022! DIRECTIONS – Green Lot: 781 5th Ave, Mansfield, OH 44905 (located directly off the 5th avenue exit on route 30). Orange Lot: Exit on main street Route 13 and it's the third driveway on the right. NOTE: Orange Lot has ADA parking. Both Lots are grass lots and the same distance walk to the festival grounds. Parking passes are available for weekend purchase or single day and Hang Tags will be sent out prior to the festival for your vehicles and will have directions to your lot. Motorcycle parking is also available.
Will Re-Entry Be Allowed?
No. Once you have entered the venue each day, you will not be allowed to leave and come back in. Please plan accordingly.  (Exception): Campers can come and go via the shuttles throughout the weekend if they have a camping wristband.