CMA Music Festival 2024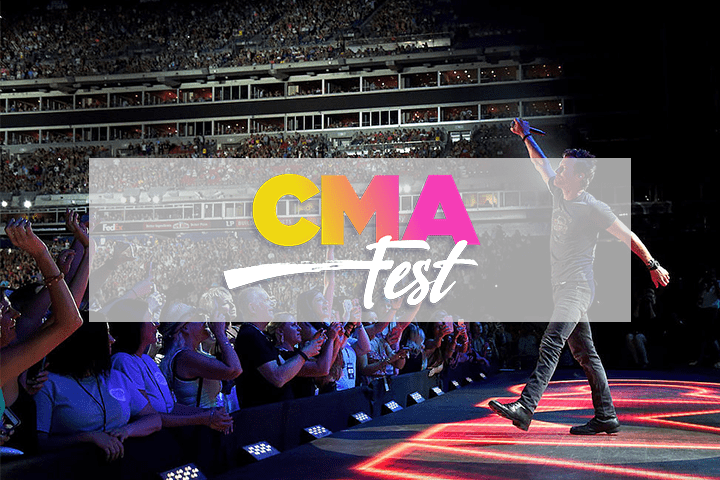 The CMA Music Festival is an annual event that brings together country music fans, artists, and industry professionals for a four-day extravaganza in the heart of Nashville, Tennessee. This page will provide you with all the essential information you need to know about this incredible festival, including its history, highlights, and how to secure your tickets. Let's dive into the world of the CMA Music Festival and discover what makes it so special!
History of CMA Music Festival
The CMA Music Festival, previously known as Fan Fair, has a rich history dating back to 1972. It was created by the Country Music Association (CMA) to offer country music fans a unique opportunity to interact with their favorite artists and enjoy live performances. Over the years, the festival has evolved into a world-class event, attracting attendees from all over the globe.
Event Highlights
Live Performances: The CMA Music Festival features over 100 hours of live music across multiple stages, showcasing both established and up-and-coming country artists. From legendary stars to emerging talents, this festival offers a diverse lineup that caters to all tastes.
Meet and Greets: Fans have the chance to meet their favorite country stars during the festival. Autograph signings and photo opportunities with artists create unforgettable moments for attendees.
Festival Atmosphere: The entire downtown Nashville area comes alive during the festival, with bars, restaurants, and shops participating in the celebration. The city's vibrant atmosphere adds to the overall experience.
Fan-Centric Events: Numerous fan-focused activities, such as panel discussions, songwriter showcases, and charity events, make the CMA Music Festival a unique experience for attendees.
Nightly Concerts at Nissan Stadium: The festival culminates with nightly concerts at Nissan Stadium, where the biggest names in country music perform for a massive crowd. These concerts are among the festival's most anticipated events.
CMA Music Festival 2024 Tickets
Secure your spot at the CMA Music Festival and experience the magic of country music like never before. Tickets are available for purchase through our trusted affiliate partners. Click below to find the best deals and options to suit your festival experience:
Don't miss the opportunity to be a part of this extraordinary celebration of country music in Nashville, Tennessee. Act fast, as tickets are in high demand, and the festival is a hot ticket every year!
The festival offers 2 types of tickets: General Admission and VIP admission.
General Admission:
single-day tickets from $98
4-day passes from $307
VIP Admission:
CMA Fest 2024 Lineup
Lineup coming soon!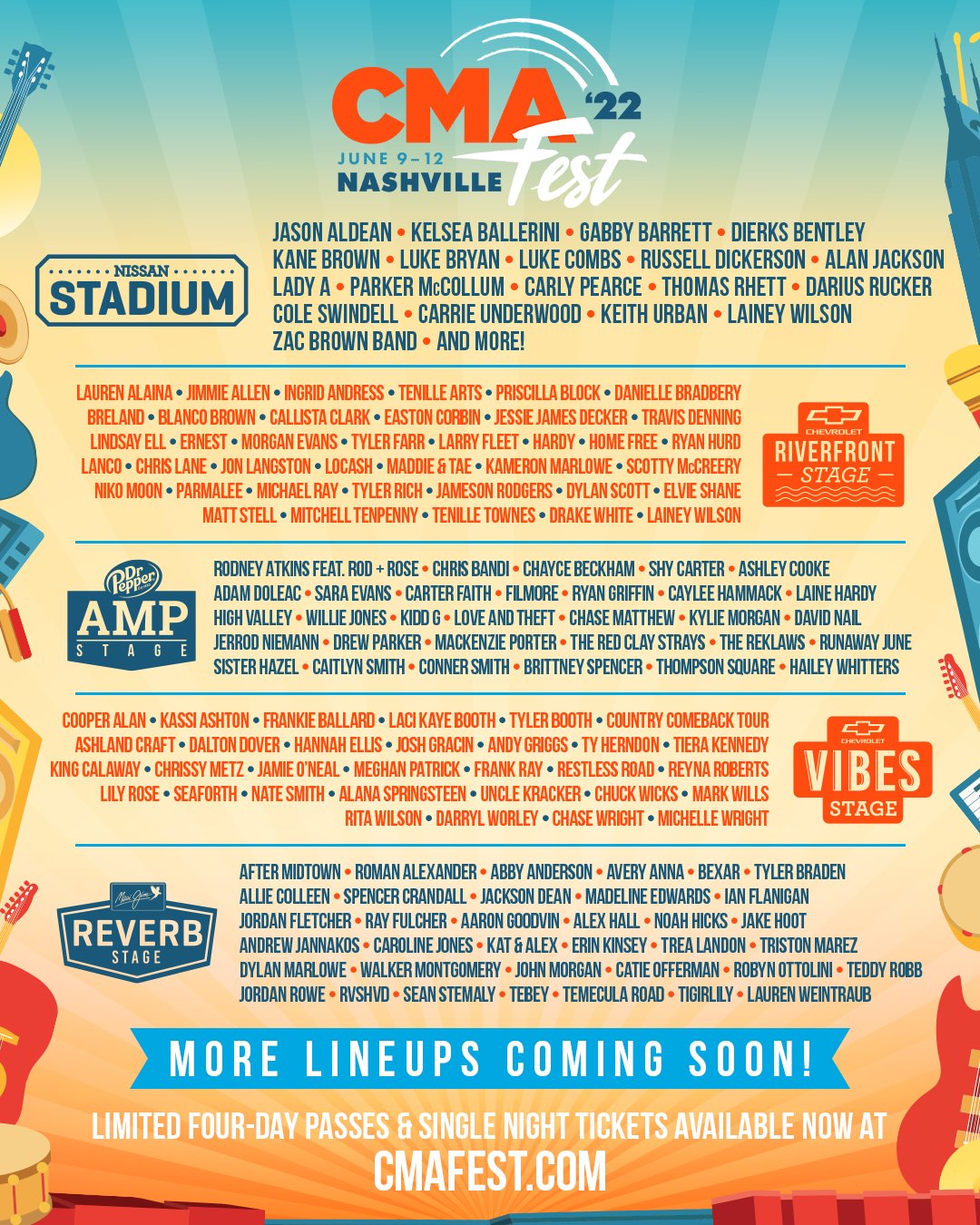 Venue and Location
The CMA Music Festival is held in Nashville, Tennessee, USA. The festival's main events and performances take place at various venues and stages throughout downtown Nashville, creating a vibrant and music-filled atmosphere in the heart of the city. Nashville, often referred to as the "Music City," is renowned for its rich history and connection to country music, making it the perfect location for this celebrated annual event.
The CMA Music Festival in Nashville does not have a single specific venue. Instead, it is a multi-venue event that takes place at various locations and stages throughout downtown Nashville. These venues and stages can include Nissan Stadium, Riverfront Park, Ascend Amphitheater, and several indoor and outdoor locations where live performances, fan interactions, and other festival activities occur. The use of multiple venues throughout the city is part of what makes the CMA Music Festival a dynamic and engaging experience for attendees.
Where to Stay During CMA Festival
Planning your visit to the CMA Music Festival in Nashville is an exciting experience, and one of the most critical decisions you'll make is where to stay. Nashville offers a variety of accommodation options, each with its own unique charm and benefits. In this guide, we'll help you find the perfect place to stay during the festival, ensuring a comfortable and memorable experience.
1. Downtown Nashville Hotels Staying in downtown Nashville offers the ultimate convenience during the CMA Music Festival. You'll be within walking distance of the festival grounds and surrounded by the city's vibrant atmosphere. Some recommended downtown hotels include:
The Omni Nashville Hotel: A luxurious option connected to the Country Music Hall of Fame and Museum.
Hilton Nashville Downtown: Located near the Bridgestone Arena, offering comfortable rooms and easy access to festival venues.
Sheraton Grand Nashville Downtown: A stylish choice within walking distance of key festival locations.
2. Airbnb and Vacation Rentals Many visitors opt for Airbnb or other vacation rental platforms during the festival. This choice provides a more home-like environment and can be a cost-effective option for groups or families. Be sure to book well in advance, as these accommodations tend to fill up quickly.
3. Midtown and West End Hotels Midtown and the West End are popular neighborhoods to stay in, especially if you want a balance between festival accessibility and exploring other parts of the city. Some midtown and West End hotels include:
The Hayes Street Hotel: Offering modern accommodations and a short drive or walk to the festival grounds.
Homewood Suites by Hilton Nashville Vanderbilt: A great choice for extended stays with suite-style rooms.
4. Airport Hotels If you prefer a quieter and more budget-friendly option, consider staying near Nashville International Airport. While it's a bit farther from the festival grounds, you can easily access downtown Nashville via airport shuttles or rideshare services.
5. Shuttle and Transportation Services Many hotels in the Nashville area offer shuttle services to the festival grounds, making your commute hassle-free. Check with your chosen hotel to see if they provide this convenient option.
Why Attend the CMA Music Festival
Unforgettable Performances: Experience live music from your favorite country artists and discover new talents in an unforgettable setting.
Unique Access: Meet and greet your musical idols, get autographs, and take pictures with them, creating memories to last a lifetime.
Nashville's Charm: Explore the vibrant city of Nashville, known as the heart of country music, with its iconic venues, historic sites, and legendary bars.
Community and Connection: Connect with fellow country music enthusiasts from around the world, creating a sense of belonging in a warm and friendly community.
Frequently Answered Question
What should I bring to CMA 2024 Fest?
You can bring a bag, but only if it's clear. All styles of clear bags are allowed as long as they are no larger than 12″ x 12″ x 6″. Small clutch bags or wallets 5.5" x 8.5" or smaller are permitted. Each guest can bring one clear bag and one small clutch in the approved size.
What do CMA Fest tickets include?
The four-day pass(es) includes entry to Fan Fair X, special offerings, and admission to the nightly concerts at Nissan Stadium.
Can you buy single day tickets to CMA Fest?
No, you do not need a ticket to attend CMA Fest. All outdoor daytime concerts and activities at CMA Fest are free. However, you will need a ticket for the "good stuff". If you purchase a ticket for CMA Fest, it comes as a 4-day pass.