Cascade Equinox Festival 2023
The Cascade Equinox Festival announces an exciting blend of music, art, nature, and experience for its inaugural edition. Located at the stunning Deschutes County Fairgrounds in Redmond, OR, this highly anticipated festival sets the stage for a magical weekend from September 22-24, 2023.
Cascade Equinox Lineup 2023
Cascade Equinox Festival 2023 will be headlined by Pretty Lights and Goose. The festival's support acts include Dirtwire, Opiuo, LP Giobbi (performing a Dead House set), Gone Gone Beyond, Manic Focus, The Main Squeeze, Polyrhythmics, Maddy O'Neal, Moontricks. Tripp St., Frameworks, and more.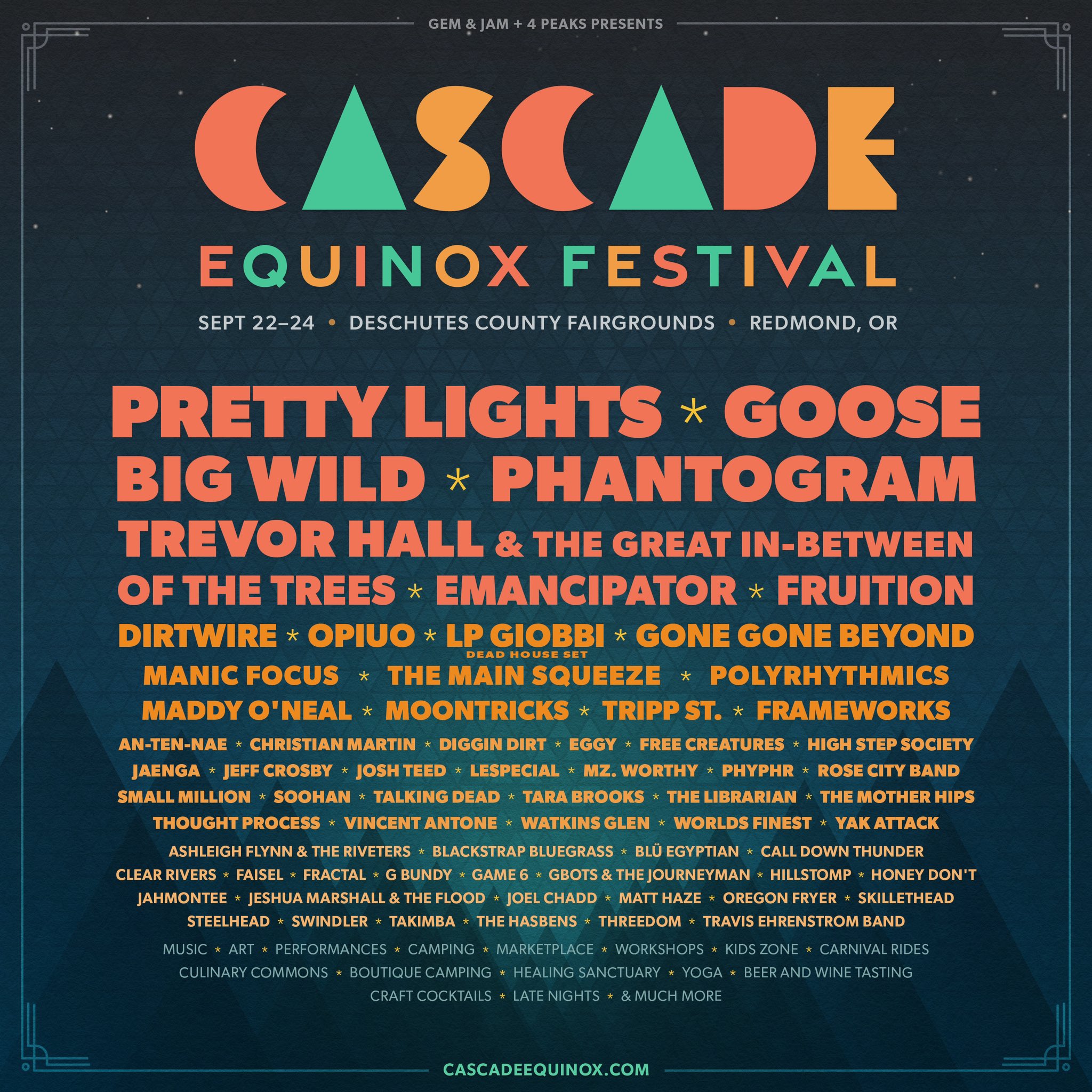 How Much Do The Cascade Equinox tickets Cost?
You can choose from the following types of tickets:
General Admission: everything basic you need for the comfortable festival experience – from $99 for 1-day pass
Inner Circle VIP – from $249
Camping – from $169
The providers have the following offers for different days:
The Cascade Equinox tickets are popular and limited, so don't miss your chance and buy them before other fans do.
What Are The Cascade Equinox Dates?
This year's Cascade Equinox festival starts on Friday, September 22, and will last for 3 days, until Sunday, September 24.
Where Is Cascade Equinox Held?
The Deschutes County Fair & Expo Center is a 320+ acre site located in Redmond, Oregon. It is placed strategically at the hub of the tri-county area (Deschutes, Jefferson, and Crook Counties) together known as Central Oregon. It is 15 minutes from Bend (the largest city in the region), 20 minutes from Prineville or Sisters, 25 minutes from Madras, and 5 minutes from the Redmond Airport.
From Bend
Travel north on US-97 toward Redmond. Take the Yew Ave exit and turn right onto SW Airport Way.
From Redmond
Travel south on US-97. Take the Yew Ave exit ramp and turn left onto SW Yew Ave. SW Yew Ave becomes SW Airport Way.
From Portland
Travel east on US-26 for approximately 103 miles. When you reach Madras continue straight as US-26 becomes US-97. Continue to travel south on US-97. When you reach the Yew Ave exit ramp take the exit and turn left onto SW Yew Ave. SW Yew Ave becomes SW Airport Way.
Where To Stay During Cascade Equinox 2023?
Multiplie camping and lodging options are available. In addition to car camping and RV passes, Alpenglow Campground, the festival's centrally located boutique campground, offers lounge spaces, private bathrooms, charging stations, and more. Additional glamping options and hotel packages are available. Wherever you decide to lay your head at night, or during the day, Cascade Equinox Festival's maiden event is a voyage that would be foolish to miss.
Frequently Answered Question
How old do you have to be to attend the Cascade Equinox?
Kids 17 and under need to be accompanied by an adult, and kids 12 and under do not need a ticket.
The Orbit is an exciting and smile inducing kids' zone at Cascade Equinox that provides hours of fun, entertainment, and adventure for kids of all ages. It is a designated area that is tailored to suit the curiosities and creativity of children, and is designed to offer an interactive and engaging experience.
What will the weather be like?
The yearly averages on these dates have been 76F Daytime and 40F Night time. Though temperatures have been as high as 97F and as low as 19F. We will keep you updated as we get closer to the event. But like most outdoor festivals it is best to be prepared for all types of weather.
Will there be an ATM on site?
Yes.
Is there free drinking water on site?
Yes, there are multiple free water refill stations throughout the festival and campgrounds. Please bring your reusable bottles and avoid using single use plastic water bottles.
Can I bring my pet?
The only animals allowed at the event are those that align with the ADA's service animal classification for animals specifically trained to do work or perform tasks for people with disabilities. Animals whose sole function is to provide comfort or emotional support do not qualify as service animals under the ADA and are therefore not allowed on the grounds.