Aftershock Festival 2023 is an electrifying annual music event that brings together hard rock and heavy metal enthusiasts from around the world. Held in Sacramento, California, this powerhouse gathering showcases a lineup of legendary and up-and-coming bands, delivering an adrenaline-fueled experience like no other. With multiple stages and non-stop performances over several days, Aftershock Festival pulsates with raw energy, mosh pits, and headbanging crowds. Beyond the music, attendees can indulge in mouthwatering cuisine from local food vendors, explore interactive art installations, and browse through an array of merchandise. Aftershock Festival is the ultimate haven for fans seeking an unforgettable celebration of rock and metal culture.
Aftershock Lineup 2023
Guns n' Roses, Tool, Avenged Sevenfold, Korn, Queens of the Stone Age, Pantera, Incubus, Turnstile, Godsmack, and Limp Bizkit are among the nearly 100 artists performing at the Oct. 5-8 event, which will be held at Discovery Park.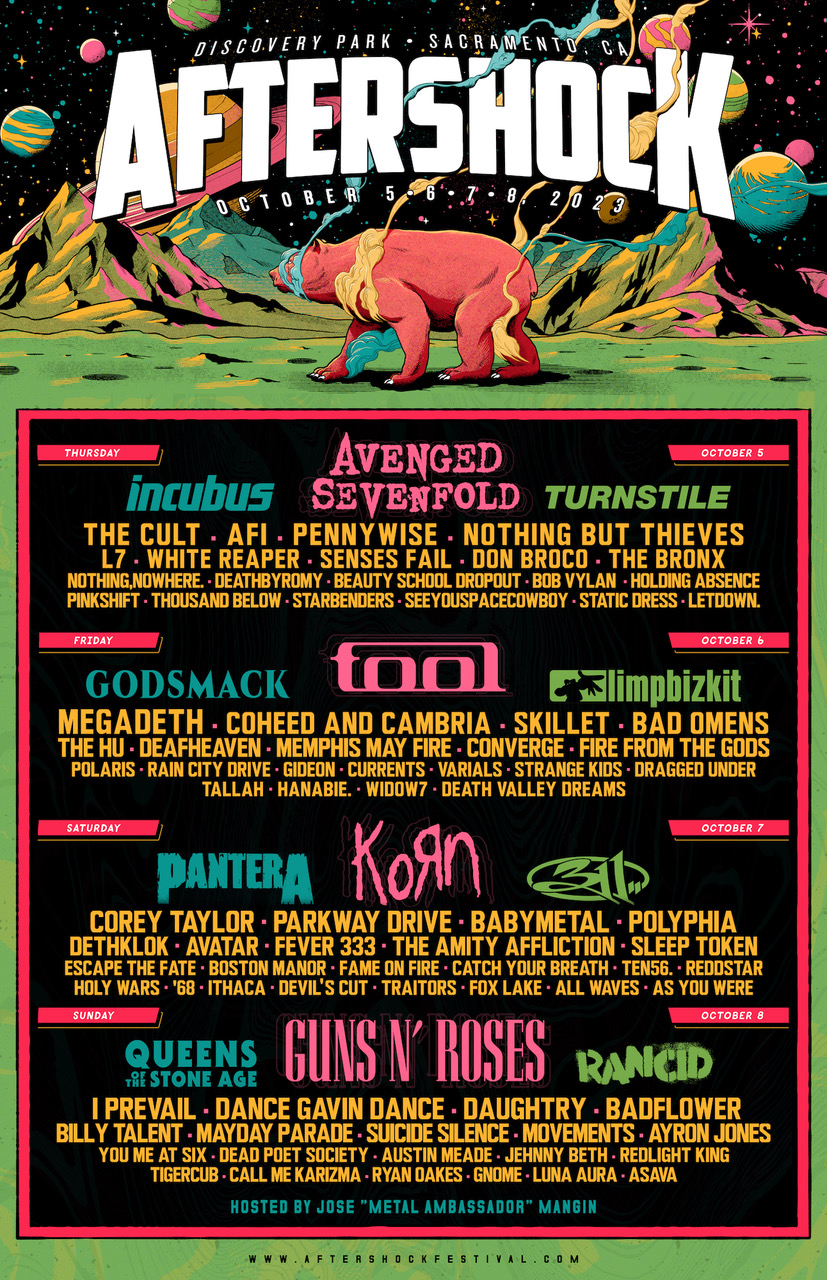 How Much Do The Aftershock Festival Tickets Cost?
The prices for the Aftershock Festival start at $64 for the Friday Oct 11 pass, according to the ticket provider StubHub (prices are subject to changes), with the average price of $100.
The providers have the following offers for different days:
All-day pass: from $260
Day 1 pass: from $64
Day 2 pass: from $73
Day 3 pass: from $182
Dates
This year's Aftershock festival starts on Oct 5, and will last for 4 days, until Oct 8, 2023.
Where Is Aftershock 2023 Held?
2023 Aftershock Festival location is Discovery Park, which is in Sacramento, CA. The venue can be found at the address 1600 Garden Hwy, Sacramento, CA 95833.
See more California music festivals here.
Where to Stay During Aftershock 2023
We've partnered with the best hotels around Sacramento to bring you the lowest rates possible along with a great lodging experience for your Aftershock weekend.
Frequently Answered Question
Will there be ATMs?
Yes, there will be multiple ATMs inside the venue.
Is there camping?
No, there is no camping or overnight parking allowed at our event.
Will re-entry be allowed?
No. Once you have entered the venue each day, you will not be allowed to leave and come back in.
What time do doors open?
Doors will open at 12pm on Friday, 12pm Saturday, and 11:30am Sunday.