SweetWater 420 Festival 2022
SweetWater Brewery Company and Happy Ending Productions Present the return of SweetWater 420 Fest from April 29 through May 1, 2022 in Atlanta, Georgia.
Founded 18 years ago, SweetWater 420 Fest continues to deliver an eclectic musical lineup, singular in its ability to bring some of the most prominent jam band names in the industry alongside cutting-edge acts and some of the most revered artists on our playlists.
Returning experiences include three stages, heady concoctions from SweetWater Brewery featuring handcrafted signature drinks, cocktails and craft beers served throughout the festival and at the festival favorite 'SweetWater Experience Tent.'
SweetWater 420 Lineup 2022
SweetWater festival 2022 lineup is HERE! The event will feature headliners Oysterhead, Trey Anastasio Band, and The String Cheese Incident, along with Umphrey's McGee, Snoop Dogg, Joe Russo's Almost Dead, Goose, and many more.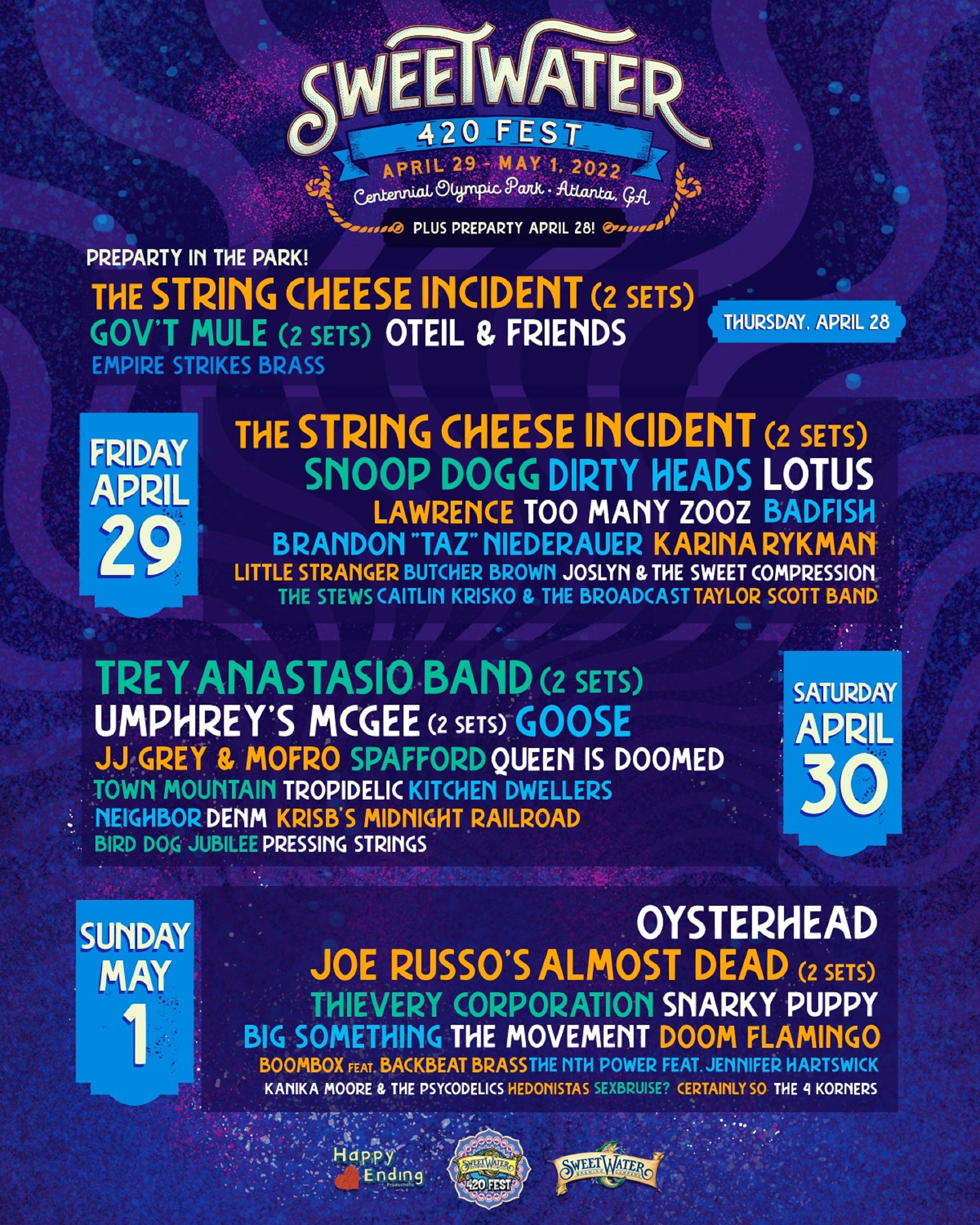 SweetWater 420 Festival 2022 Tickets
The festival offers 2 types of tickets: General Admission and VIP admission.
General Admission:
single-day tickets from $89
weekend passes from $193
VIP Admission:
Where to Stay During Sweetwater 420 Fest 2022
We've partnered with the best hotels around Atlanta to bring you the lowest rates possible along with a great lodging experience for your SweetWater 420 Fest weekend.
Click here to find the best available hotels
FAQ
Will alcohol be sold?
Yes. Beer, wine and mixed drinks will be sold to those with a valid ID.
Is the venue ADA accessible?
The venue is accessible and there will be special viewing areas at the main stages for those with mobility limitations.