What is the Summerfest Festival?
Summerfest® presented by American Family Insurance is all about bringing you shows you'll brag about and moments that you just can't miss. More stages and picture-perfect spaces on the lakefront, one-of-a-kind sponsored giveaways, shopping, and even an all new children's area for your up-and-coming little rockers.
Summerfest offers unique experiences for fest-goers looking for something to do before the headliners hit the stage. Check out what's on the water from the shore, relax and enjoy the sounds of Summerfest with some wine with cheese at the Summerfest Corkscrew, create memories with picture-perfect backgrounds, or visit the daily sports activities at the Gruber Law Office Sportzone.
How Much Do The Summerfest 2022 Festival Tickets Cost?
Discover 11 festival stages of live music, experiences, merch, and food, and more. With a multi-day pass, you'll catch more shows and see more performers becoming legends before your eyes. Multi-day passes start at $57. Festival passes are not valid for admission to American Family Insurance Amphitheater shows.
Summerfest 2022 Dates
This year's Summerfest festival starts on September 2 and will last for three weekends. Summerfest will be held Sept 2-4, 9-11, 16-18, 2021.
Summerfest Lineup 2022
No more rumors! The Summerfest festival lineup has been officially announced and will bring stars like Guns n' Roses, Green Day, Fall Out Boy,  Weezer, Jonas Brothers, Dave Matthews Band, Luke Bryan, Chris Stapleton, Chance the Rapper and Miley Cyrus at one place. Grab the poster with the full Summerfest lineup below!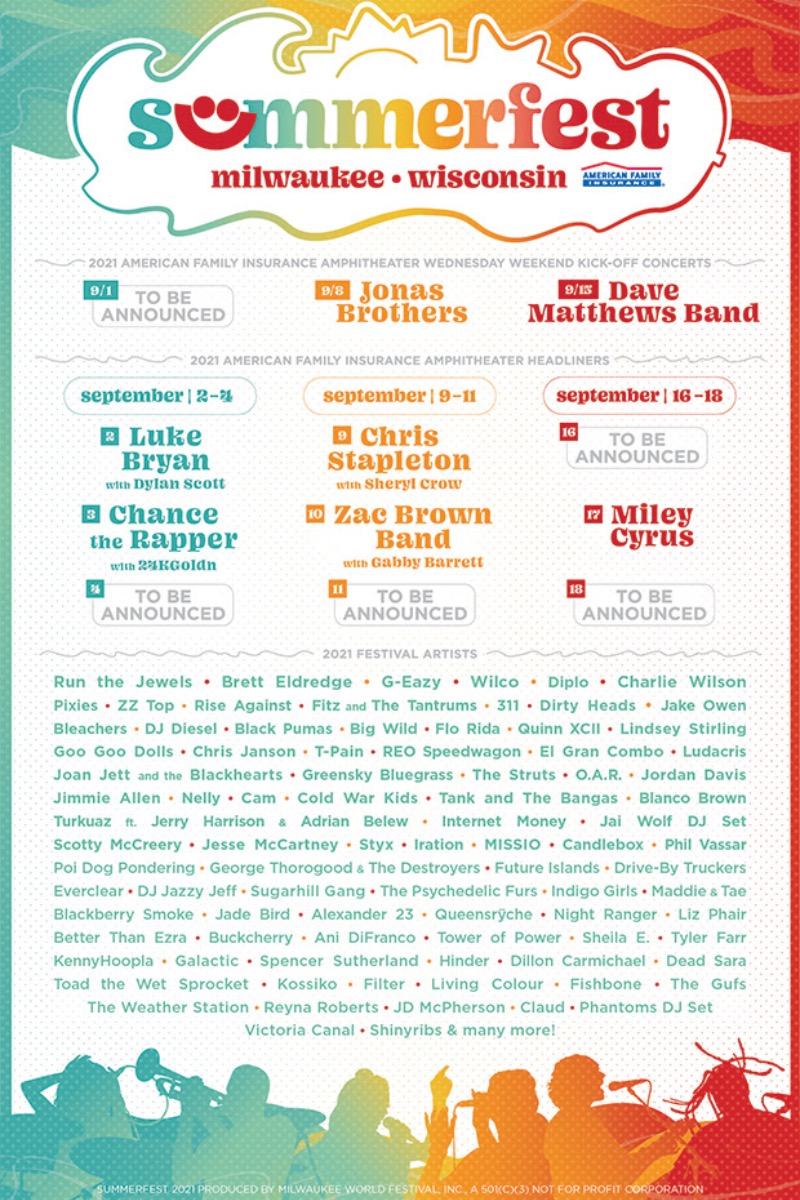 Where Is Summerfest Located?
This year's Summerfest festival location is Henry Maier Festival Park, which is in Milwaukee. The venue can be found at the address 200 N Harbor Dr, Milwaukee, WI 53202.
Frequently Answered Question
WHAT ABOUT MY 2020 SUMMERFEST TICKET OR PASS?
All 2020/2021 general admission tickets will be honored, including digital tickets, UScellular™ Power Passes, multi-day passes, or promotional tickets received through a Summerfest partner or as a donation.
If you purchased date-specific advanced parking for 2020. Your 2020 parking pass will now be good for any parking day of Summerfest 2021.