Miami Beach Pop Festival 2019
What is the Miami Beach Pop Festival 2019?
This laid-back festival teleports you from the cold right to the warm sands of Miami's South Beach. The Miami Beach Pop Festival is a perfect anti-stress vaccine from autumn sadness. 3 days of music, wellness, sustainability at the seaside: this is all about summer.
As the organizers call it, Miami Beach Fest is a celebration of life. Jump into the rush of open-air music, relax and activate yourself with meditation and mindfulness practices, and enjoy delicious food by Chef Michael Schwartz.
Miami Beach Festival is about sustainability: no single-use plastic, no boxed water, reusable cups and water refill stations will establish the clean vibes and give Earth another chance.
Tickets and Prices
The prices for the Miami Beach Pop Festival 2019 start at $325 for the 3-day pass.
Passes are limited: don't miss your chance to get them!
See Available Tickets
Dates
The 2019 Miami Beach Pop Festival starts on November 8, and will last for 3 days, until November, 10.
Lineup and Schedule
The 2019 lineup unites the all-star team of artists: Chance The Rapper, Jack Johnson, Daddy Yankee, Kygo, The Racounters, Juanes, Leon Bridges, and more! Check the full lineup and schedule on the official poster.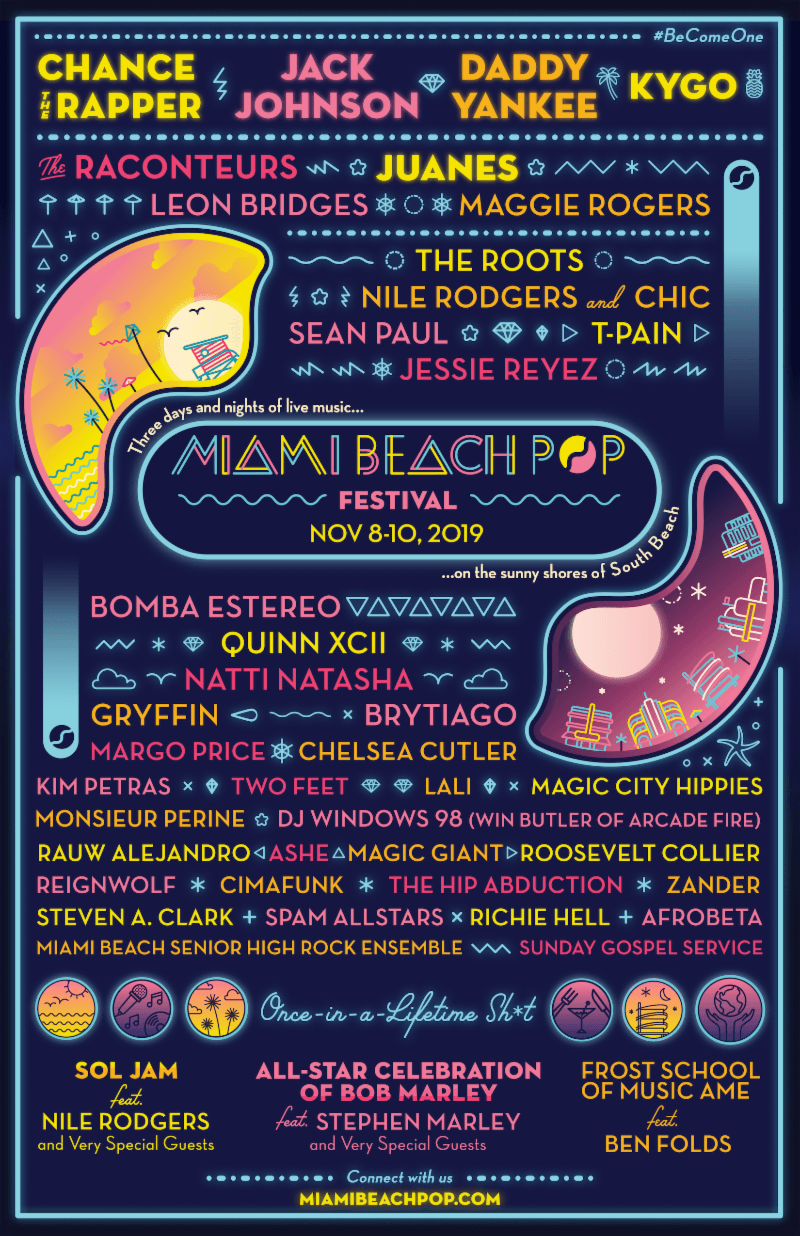 Location and Venue
Miami Beach Pop Festival is located between the Turquoise waves of the Atlantic and the Iconic Art Deco Architecture of Ocean Drive in the Legendary Miami Beach.
The best address to navigate to the festival is 697 Ocean Drive, Miami Beach FL 33139.
Frequently Answered Question
---
How old do you have to be to attend the Miami Beach Pop Festival?
To attend the Miami Beach Festival, you should be at least 18 years old. Every attendee below this age should be accompanied by the adult companion.
How much does it cost to go to the Miami Beach Festival?
The ticket for the festival starts at $325. The hotel in Miami will cost at least $110-160 per night (prices may grow right before the festival, so book it in advance). If you travel by plane, the airfare around the US costs $350 on average.
Additionally, prepare the average $120 for food, drinks, and accidental shopping (merch, souvenirs).
What to Bring with Yourself for Camping?
The following items will be useful:
Flag
First aid kit
Baby wipes