Gasparilla Music Festival 2020
The Gasparilla Music Festival ("GMF") is a community-funded festival celebrating the arts in Tampa Bay by showcasing diverse local acts alongside nationally recognized headliners. GMF is organized by the Gasparilla Music Foundation, a Florida 501(c)3 non-profit corporation.
Tickets
Price range for Gasparilla music festival tickets is $40 – $200.
See Available Tickets
Lineup And Schedule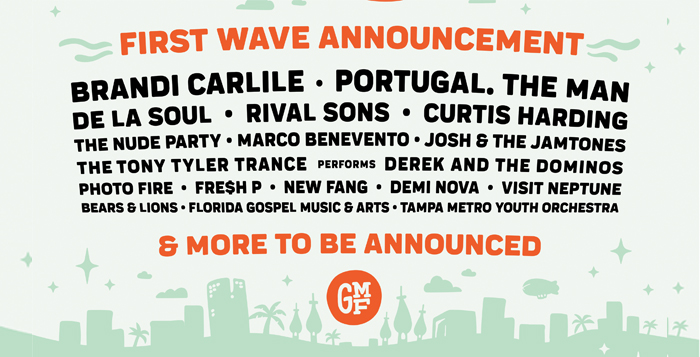 Location
Where to Stay During Festival
Frequently Answered Question
Can you drink at Gasparilla?
Beer and Wine is for sale and can be purchased at one of several Gasparilla Charity Beer Gardens located throughout the event. You must be 21+ and you must present a valid photo ID.
Where to Park?
Hourly parking is available in the Poe Garage, Curtis Hixon Garage and Fort Brooke Garage. Street parking meters north of Kennedy Blvd are free on weekends.
What Can I Bring to Gasparilla Music Festival?
Blanket or ground tarp (no larger than 6'x8′)
Low-backed chairs (under 30″ in height, permitted in designated areas only)
Small bags and backpacks (smaller than 17″x12″x10″, subject to search)
Water (factory sealed, up to 1 liter)
Wheelchairs and medical scooters
Strollers for children
Hand-held still cameras
What to wear for the Gasparilla Festival?
Shine bright like a diamond, but don't forget about the comfort. A pair of shorts and a T-Shirt, sundress or a tank top always make a perfect combination for the great Gasparilla music festival outfits.
Do not forget about the warm clothing for the night's cold. Always put on the comfortable shoes that will let you dance and walk a lot.
What to Bring with Yourself for Camping?
The following items will be useful:
Tent
Air mattress
Flag
Portable music speaker/fan
First aid kit
Portable charger
Baby wipes
Air sofa