Download Festival 2024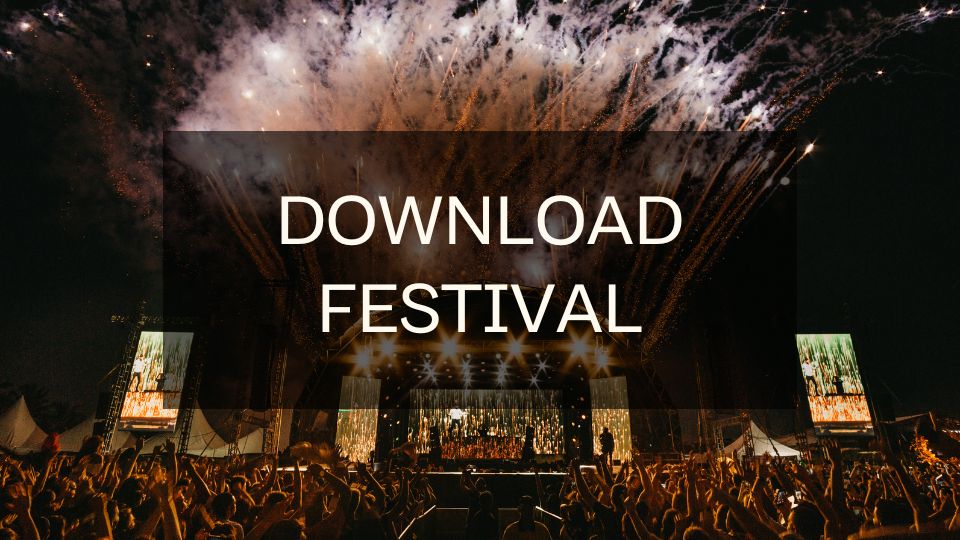 The Download Festival, often referred to as Download, is one of the UK's premier music festivals. Renowned for its stellar lineup and electric atmosphere, it's a must-attend event for music enthusiasts of all genres. In this guide, we'll provide you with all the essential information you need to purchase your Download Festival tickets and make the most of your festival experience.
Festival Overview
Get an overview of what to expect at Download, from its iconic stages to the diverse music genres on offer.
Download 2024 Lineup and Artists
Queens Of The Stone Age, Fall Out Boy and Avenged Sevenfold will be headlining next year's Download, while the likes of Royal Blood, The Offspring, Sum 41, Corey Taylor, Machine Head, BABYMETAL and Bad Omens are also on the line-up.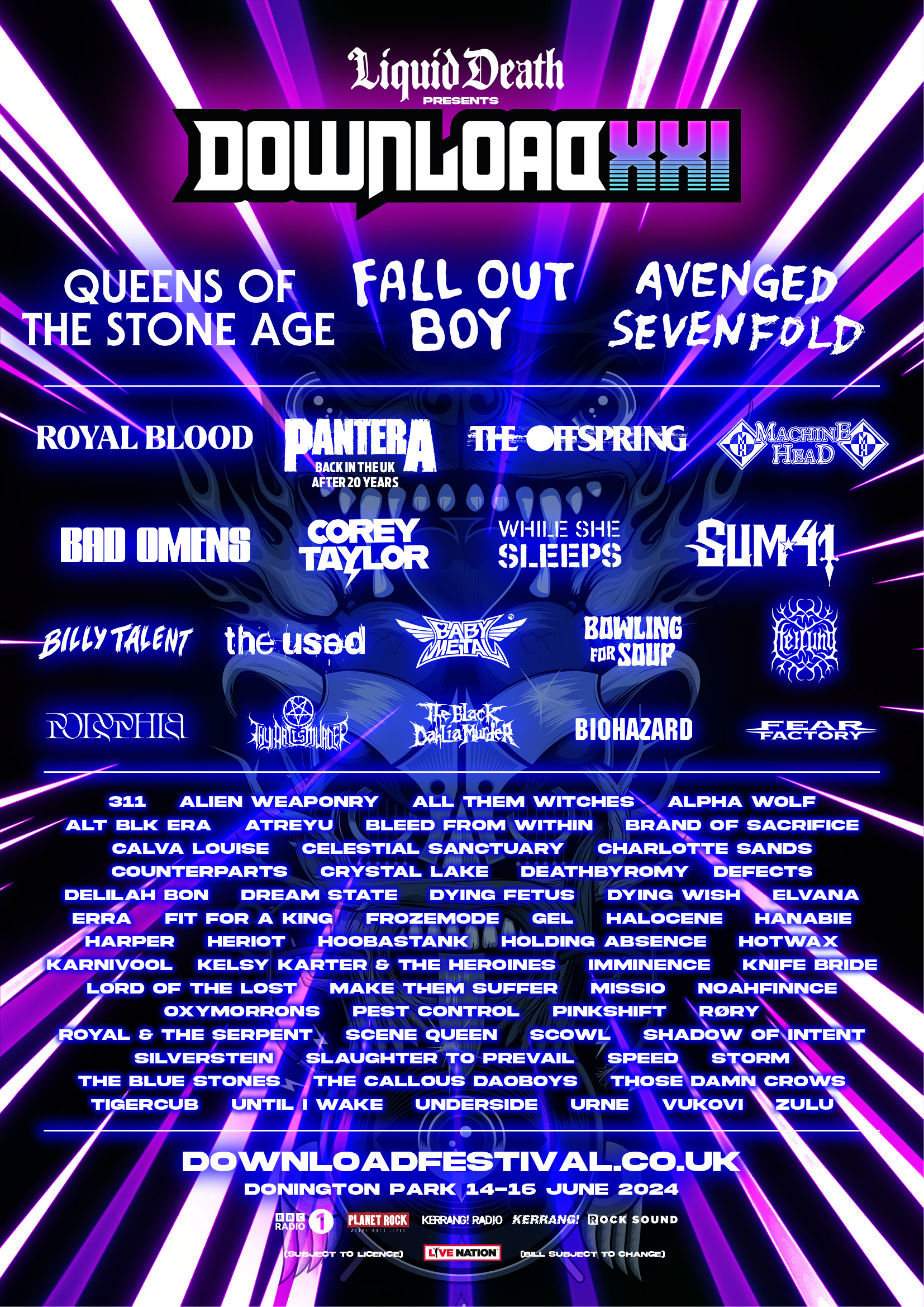 Venue and Location
Download Festival boasts a legendary venue that has become synonymous with the spirit of rock and metal music. Nestled in the picturesque countryside of Leicestershire, Donington Park transforms into a colossal playground for music enthusiasts each year. With its sprawling grounds, world-class stages, and a rich history dating back to the early '80s, it's no wonder that this location is revered by fans and artists alike. The festival site is carefully designed to offer diverse experiences, from the immense main stage that has hosted iconic acts to smaller, more intimate settings for discovering new talent. The lush green surroundings and convenient facilities make it an ideal place to camp, creating a vibrant, tight-knit community of festival-goers. With its hallowed grounds and incredible atmosphere, Download Festival's venue is not just a setting for music; it's an essential part of the festival's DNA.
Festival Dates and Schedule
Mark your calendars and get ready to rock – Download Festival is set to take over Donington Park from June 14 to 16, 2024, with an electrifying lineup and a schedule packed with non-stop musical action!
Detailed schedule will be released closer to June.
Why Attend Download Festival?
Attending Download Festival is not just a choice; it's an exhilarating journey into the heart of music and a unique celebration of the spirit of rock and metal. It's an opportunity to immerse yourself in a world where legendary bands and emerging artists come together to deliver electrifying performances that will leave you awe-struck. But it's more than just the music – it's the sense of community and camaraderie, the feeling of unity as thousands of passionate fans gather to share their love for the genre. It's about forging lasting memories, headbanging in the rain, making new friends, and discovering the extraordinary in the unexpected. Download Festival is where unforgettable moments happen, where you become part of a musical legacy, and where the festival spirit runs deep. So, why attend? Because Download is not just a festival; it's an experience that will rock your world and leave you craving for more.
Ticket Options
Download Festival offers a diverse array of ticket types to cater to every festival-goer's preferences. Whether you're looking for a single-day dose of musical mayhem or seeking the full weekend experience, there's a ticket option for you. From standard admission to VIP and premium passes that offer exclusive perks, the range of choices ensures that you can customize your festival adventure. Families and groups aren't left out either, with special ticket deals designed to make the festival experience even more accessible and enjoyable. With Download's commitment to inclusivity, there's a ticket for everyone, allowing you to tailor your festival journey to your own unique style and budget.
Download Festival Ticket Pricing and Packages
Find out about ticket pricing and any special packages or discounts available.
Weekend Camping – from £264.00 for 3 nights
Eco-Camp Tickets – from £264.00 for 3 nights
Weekend Non-Camping – from £231.00
Download RIP Package (includes access to rocking facilities including luxury toilets, warm showers, pamper areas, firepits, live entertainment, the RIP exclusive 'Doggy Bag' and 24-hour assistance from the reception) – from £740.02
Extras – from £240.00 (pre-pitched tent)
For Download 2024, a pre-purchased Car Park pass will be mandatory for those attending by car, and will not be available to buy on the day.
Camping and Accommodation Options
Download Festival's campsite area is so much more than the place you can get some kip. As well as numerous campsite areas, you'll gain access to The Village which is full of food and drink stalls, essential services, and the kind of entertainment you just won't find anywhere else. The campsite is open 24 hours a day.
There will be toilets, showers and water available to you dotted around the campsite areas, just look at your map or nearby signs to guide you. First aid and welfare tent facilities are available throughout the duration of the festival.
Festival Experience
As you prepare for Download Festival 2024, here's what you can expect during your time at the event.
Festival Activities and Attractions
Discover the various activities and attractions that will keep you entertained throughout the event.
Food and Beverage Options
From mouthwatering street food to delicious international cuisine, there's something to satisfy every festival-goer's taste buds. You can savor everything from classic festival treats like burgers and fries to exotic dishes from around the world. Whether you're a meat lover or a vegetarian, gluten-free, or have other dietary preferences, the festival's food vendors have you covered. Quench your thirst with a wide range of beverages, from cold beers to soft drinks and even cocktails. The festival caters to a variety of dietary needs and ensures that everyone can enjoy a delectable dining experience while rocking out to their favorite bands.
Weather and Packing Suggestions
The weather at Download Festival can be as dynamic and diverse as the music itself. Given that it takes place in the UK during mid-June, festival-goers should be prepared for changeable conditions. Expect a mix of sunshine, cloudy skies, and the occasional rain shower. With typical British weather, it's wise to bring layers, including rain gear, and comfortable footwear that can handle both muddy fields and dry patches. The weather at Download Festival can add to the adventure, creating a sense of camaraderie among attendees who are ready to embrace the elements while enjoying their favorite bands. So, when packing for Download, remember to prepare for the full spectrum of UK weather, and you'll be ready for whatever Mother Nature decides to offer.
Must-Have Festival Gear
When gearing up for a music festival, packing the right essentials can make or break your experience. From comfy footwear that will keep you dancing all day to a portable charger for staying connected and capturing memories, the list is crucial. Don't forget sunscreen and a wide-brimmed hat to stay sun-safe, and a water bottle to stay hydrated. A small backpack for essentials and a poncho or raincoat to combat unpredictable weather are wise choices. Earplugs can protect your hearing during loud performances, and a bandana can be a versatile accessory for many uses. And last but not least, a festival map and schedule will help you navigate the grounds and ensure you don't miss your favorite acts. With these essentials in tow, you'll be well-prepared to enjoy every moment of the festival while staying comfortable and safe.
FAQs
Get solutions to common queries about tickets, the festival, and more.
Do I need an ID?
At times you may be required to show a valid form of ID whilst at Liquid Death Presents Download Festival; where we also operate a Challenge 21 Policy on site at our bars and cigarette stalls. The following types of ID are accepted:
A Passport (Not a photocopy)
Full Driving Licence or Provisional Licence
A Proof of Age Card bearing a PASS hologram
A Ministry of Defence identity card
A National identity card issued by an EU member state
Accessibility Information
Download Festival has a dedicated Disabled Access Team working all year round to assist customers with disabilities. Members of the Disabled Access Team will also be present on site in both the campsite and the arena throughout the festival.
User Testimonials and Reviews
Read what others have to say about their experiences and leave your own feedback.


Photo and Video Galleries
The Download Festival aftermovie video is a breathtaking journey that encapsulates the heart-pounding energy, electric performances, and the indomitable spirit of one of the world's most iconic music festivals. With its cinematic visuals and pulse-pounding soundtrack, it serves as a vivid memento for attendees and a tantalizing glimpse into the experience for those who couldn't make it. From raucous mosh pits to the camaraderie of the crowd, and the mesmerizing light shows, the aftermovie captures the essence of what makes Download Festival an unparalleled celebration of music and community. It's a chance to relive the unforgettable moments and to be inspired to join the next epic chapter of this extraordinary festival.