Bonnaroo Music and Arts Festival 2020

What is Bonnaroo?
The greenfield plains of Tennessee, and the awesome Great Stage Park, more than a hundred of artists, art exhibitions, and conscious, green-oriented entertainment: that's what Bonnaroo Music And Arts Festival 2020 is! A former local fest, throughout its history since 2002, it has become one of the important musical events of the US, along with Coachella and Ultra Music Festival. The vivid festival has hosted such artists as Radiohead, Nine Inch Nails, Primus.
Bonnaroo is more than just a music festival, it's the lifestyle and a desire of thousands of Americans! The first festival to install a permanent solar array to use the alternative energy year, this festival is about sustainability and consciousness.
How Much Are Bonnaroo Tickets now?
The prices for the Bonnaroo Festival start at $314 for the 4-day pass, according to the ticket provider StubHub. The organizers offer the following packages for the fans:
4-day pass: starting at $314.
Day 1 pass (Grand Ole Opry, Saba, Space Jesus, 12th planet): starting at $366.
Day 2 pass (Phish, Childish Gambino, Solange, Brockhampton): starting at $366.
Day 3 pass (Post Malone, Odesza, Hozier, Kasey Musgraves, The National): starting at $321.
Day 4 pass (The Lumineers, Cardi B, Brandi Carlile, Illenium): starting at $275.
Bonnaroo Festival tickets are popular and limited, so don't miss your chance and buy them before other fans do! Every dollar from a ticket sold will go towards the green initiatives. Support your planet!
Lineup
Ready to see the astonishing list of this year's lineup? The organizers have prepared a totally huge set of music starts, including, but not limiting with, Post Malone, Cardi B, Childish Gambino, Phish, Mac Demarco, Griz, Solange, Brockhampton, Odesza, Hozier, The Lumineers, and Illenium.
Schedule
The artists' schedule is already available on the official website.
Map
Click the image to go to the full map!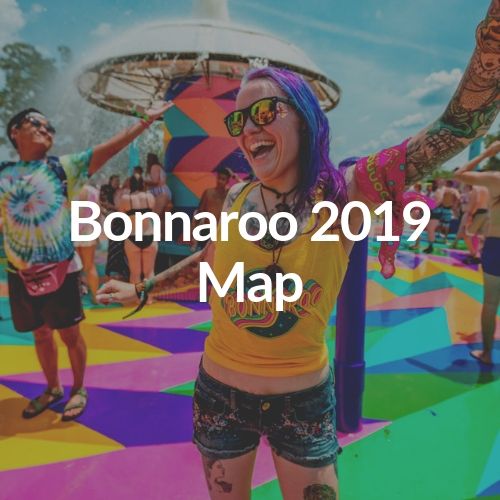 What Are The Directions To The Festival?
Most of the visitors decide to go by their own transport (car, camping van or truck) due to the distant location of the Great Stage Park. If you decide not to, the festival offers the regularly paid shuttles from Nashville to Bonnaroo, and back. To get the ticket, you can buy a shuttle package (a 4-day ticket is included) for $554, or a 1-day package for $190 (ticket included). The shuttle schedules are the following:
Nashville Departure Times
Thursday -1:30pm, 6:00pm
Friday – 11:00am, 3:00pm
Saturday – 11:00am, 3:00pm
Sunday – 12:00pm, 3:00pm
Bonnaroo Return Times
Thursday – 12:30 am, 3:00 am
Friday – 1:00am, 3:00am
Saturday – 12:30am, 3:00am
Sunday – 12:00 am
Frequently Answered Question
How old do you have to be to attend festival?
Bonnaroo is an all ages event. Please note that every attendee over the age of 2 will need a ticket.
What are the great Bonnaroo outfits?
Bonnaroo is a summer festival, so prepare some light clothes as a T-shirt, shorts, and a headwear. Wanna look stylish and be dressed to kill? Check out some of the Bonnaroo outfits ideas here.
How much does it cost to go to Bonnaroo?
The tickets for the Bonnaroo start at $310.
How much alcohol can you take to the festival?
You may bring 2 cases of beer per person per car, and one (1) 1.75 liter of hard liquor per person per car, and 2 boxes of wine per person per car.
Are there showers at Bonnaroo?
Bonnaroo has introduced the Plazas (formerly known as Pods), which are the places for the social activities, and also give access to the amenities like shower and toilet.
What does Bonnaroo mean?
Bonnaroo, or Bon-a-roo, is a French Creole slang that means "best on the street". Wanna be the best as well? Get the tickets to the Bonnaroo Festival 2019.
How many people go to Bonnaroo?
In 2017, the approximate attendance was 65,000 fans. This year's Bonnaroo has all the chances to host 70-80,000 of visitors.
What to Bring with Yourself for Camping?
The following items will be useful:
Flag
First aid kit
Baby wipes
-->